How David Steingard went from keeping Brooklyn safe to starting a purpose-driven coffee brand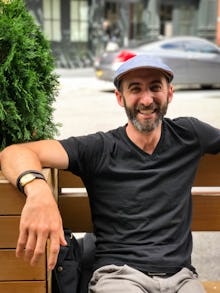 Courtesy of David Steingard
10 years ago, David Steingard probably never thought he'd be running a purpose-driven coffee company.
He was working as a prosecutor at the Brooklyn district attorney's office after graduating New York Law School, working to improve public safety and the quality of life of Brooklyn's residents. Four years in the public sector, and Steingard was looking for something new to do. Growing up in an entrepreneurial household, Steingard had always been inspired by his father Barry who started a coffee company in the early 70s that later became the Tribeca restaurant The Cupping Room Café. It was his father's inspiring example that led Steingard to start Laughing Man® Coffee.
Currently, Laughing Man® Coffee has two cafés in New York City, an equity-based nonprofit in the Laughing Man Foundation and, through their fair-trade coffee, is improving the quality of life for coffee producers and their families alike. While going from the DA's office to coffee might seem like two disparate positions, the common thread of social entrepreneurship runs throughout Steingard's life.
"The things that I've always been interested in are generally public-service oriented," Steingard says. "They've got to have some meaning to them. I became a prosecutor because I liked the idea of working for the public and justice. I liked working for the public school laptop program because that was public-school oriented. It was the idea of blending something entrepreneurial and creative, and that had a greater potential with a lot of socio-economic issues that were happening in specialty coffee."
The make-your-own-structure aspect of entrepreneurship came naturally to the Laughing Man® Coffee co-founder, who had jobs from an early age that taught him the ability to work independently, solve problems, and create his own channels of movement. When it came to founding a coffee company, his biggest learning curve — managing a team of employees — has also proved to be his most rewarding.
"Learning to manage and inspire employees, I hadn't done that before," Steingard explains. "Now we have a staff of about 20 people. Working on that front as more of a manager was sort of the biggest learning curve, but it turned out to be the most fruitful. I really enjoy working with our staff. I enjoy seeing them get inspired and connect to the mission, and watching them grow within the company."
For the first several years of running Laughing Man® Coffee, Steingard worked the café each morning, and it was, he says, the highlight of his day. Now he spends his mornings in meetings, developing more cafés, working with Keurig Dr Pepper (who owns Laughing Man® Coffee), fulfilling catering requests, and other general development work. There's also a fair share of hands-on work, he explains with a laugh, whether it be fixing the plumbing or any other issue that comes up while running a busy Manhattan coffee shop.
Through their partnership with Keurig Dr Pepper, Steingard and the Laughing Man® Coffee team have been able to scale their business to reach consumers across the country. He lights up when talking about people who send him photos from Costco and Target of their mom buying Laughing Man® Coffee or when the brand's coffee is available in the new building they're moving into.
It all started with a café where, as he describes it, people in New York interact almost like the denizens of a small Southern town. "All be happy" is the shop's motto, derived from an ancient Sanskrit prayer. With Laughing Man® Coffee, Steingard has made it his mission to create a moment for customers each day where they feel a little more connected and a little happier. It's that positive outlook on hospitality and community service — whether in Manhattan or Huila, Colombia — that shapes the purpose of Laughing Man® Coffee and his personal definition of success.
"Try not to become a person of success, but try to become a person of value" is an Einstein quote that Steingard says is one of his favorites.
"People often ask us 'Who's your competition?'" he says. "But if you want to be successful, the idea is don't compete. You have this idea, do the best you can, that will naturally make you competitive in the market. But success is being able to stay balanced in your values while you're doing what you do. That's why I love this idea of don't make it about the money, make it about whatever that value is."
This article was sponsored by Laughing Man® Coffee.