In Ukraine, scenes of violence and fear as Russian troops barge in
Russia "has embarked on a path of evil," said Ukrainian President Volodymyr Zelensky.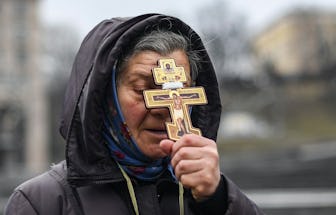 Photo by DANIEL LEAL/AFP via Getty Images
On Thursday, Russia began its military invasion of Ukraine in the early hours of the morning. While Russian President Vladimir Putin previously claimed he's simply defending the Moscow-backed separatist regions of Donetsk and Luhansk in eastern Ukraine, that's not the case. Russia's military presence isn't limited to those regions, and missile strikes have taken place across Ukraine, including in its capital city of Kyiv.
Ukrainian President Volodymyr Zelensky strongly condemned Russia's actions on Twitter, writing, "Russia treacherously attacked our state in the morning, as Nazi Germany did in [World War II] years. As of today, our countries are on different sides of world history. [Russia] has embarked on a path of evil, but [Ukraine] is defending itself and won't give up its freedom no matter what Moscow thinks."
Trying to follow the decades-long politics of this conflict is intimidating. But pictures speak, too. And as thousands of people attempt to flee major Ukrainian cities, the images coming out of the country are haunting.