30 common grooming mistakes you're making that you don't realize are costing you money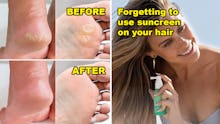 We may receive a portion of sales if you purchase a product through a link in this article.
Going to the salon for a mani-pedi, hitting the hairdresser every few weeks for a trim, getting your dentist to whiten your teeth, or even dropping too much on personal care items adds up quickly. All of that is fine if you want to treat yourself or have some fun — but if you're trying to save money, those treat-yourself grooming moments could be considered "mistakes" to your wallet.
You don't even have to pull out your budget and calculator because I did the legwork for you. Read on, and save for something nice.