40 cheap home fitness products that make a big impact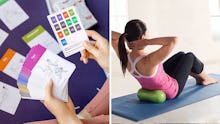 We all know what it's like to start a new workout program: You're pumped and ready to go. But after a few weeks, it can be tough to stay committed without some great home fitness products to keep you motivated.
One thing that a lot of people don't think of when they start working out is that you need to recover just as hard as you exercise. Rest is key, but there are also some excellent relaxation tools that specifically target sore muscles and increase circulation to help you recover faster. Take this acupressure mat, for example. Even just 10 minutes per day lying on it can make a huge difference in your recovery.
The faster you recover, the easier it is to get back to your workouts and keep grinding. There are some extremely affordable tools you can add to your home gym that keep your workouts fresh. Even something as simple as this step platform can add a challenge and motivate you to keep improving. There are so many hand wights, balance balls, and yoga mats out there that can make a huge difference and expedite your results.
Ready to amp up your workouts and recover faster? Check out these affordable fitness products to add to your home gym.
This article was originally published on