40 cheap home improvement products that work so freaking well
Clever DIY tricks and affordable upgrades.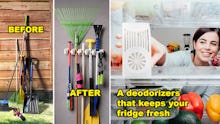 We may receive a portion of sales if you purchase a product through a link in this article.
Upgrading your home doesn't have to mean removing walls or tearing up flooring. It can be as simple as finding better organizational solutions or preventing damage that feels inevitable. Amazon offers plenty of goods that take your home to the next level without emptying your bank account. As a DIY enthusiast, I know that with the right tools, you can make any house a home. Check out these 40 cheap home improvement products that work so freaking well.
First up, you'll find home products that protect your belongings. From covers for your refrigerator door handles to a drain protector, these simple changes to take care of your home will save you money in the long run. I've also included some cleaning kits that will revive your tired tile, appliances, or electronics. These simple switches can make your home feel nicer, more efficient, and in turn, make your home a better place to be.
Don't worry: if you're bummed out by your home's current aesthetic, I have a few things that will do the trick. I've added unique products like peel-and-stick tiles that will add some character while hiding those ugly tiles you loathe but don't want to spend the money to demolish.
These highly rated and reviewed products are under budget and you may be surprised by how big of an impact they really make.