Designers say these home products seem expensive but are actually so freaking cheap on Amazon
Your chicest home ever — on a budget.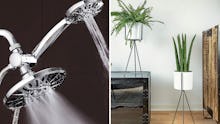 We may receive a portion of sales if you purchase a product through a link in this article.
You don't have to win the lottery or rob a bank to take your home from "bleah" to "yeah!" If you're looking for affordable ways to elevate your home decor, Amazon has got you covered. Some home products might seem expensive in concept, but in reality, they can be quite affordable. But you don't have to take my word for it — take it from professional designers who know how to achieve a high-end look on a slim budget.
From trendy wall art to sleek accent furniture, designers swear by these products for giving any space a touch of sophistication. They may seem like they come with a hefty price tag, but trust experts: they're so freaking cheap on Amazon.