40 important little things you're forgetting to do that you'll wish you realized sooner
Small changes that'll make a big impact.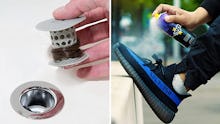 Amazon
We may receive a portion of sales if you purchase a product through a link in this article.
With a busy schedule, it can be easy to forget or simply not know about some clutch household items that could make your life so much easier. Whether it's a cleaning product that makes easy work of removing stains and odors, a time-saving tool, or some preventative measures that keep your home looking great, there are plenty of important and helpful little things that can be easily incorporated into your day-to-day life.
So when you're ready, scroll on for a list of important items you'll probably wish you had known about sooner.