Clever things that make your home look & smell better with almost no effort
They make it so easy to freshen up your space.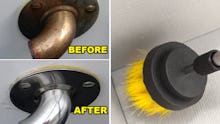 We may receive a portion of sales if you purchase a product through a link in this article.
Want to make your home look better or get rid of some lingering smells — but are pressed for time? There are plenty of clever things on Amazon that will do the job with zero stress on your part. From foolproof ways to keep closets and sink drains smelling fresh, to little tricks that'll improve the overall aesthetic of your space, you'll find it here.
With these smart products, making your home look great and smell even better doesn't have to give you a brain cramp. They're good for your home and good for you — because you'll barely have to lift a finger.