45 cool things selling out fast on Amazon
These items are tried-and-true favorites.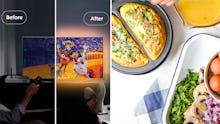 Shopping
By
Ileana Morales Valentine
We may receive a portion of sales if you purchase a product through a link in this article.
Look, the best-selling products online are popular for a reason. They usually solve an everyday problem or just make life a little easier. And with reviews from fellow shoppers, it's easy to see which ones are the winners and why. But you might want to act quickly. I've rounded up these 45 cool things that keep selling out fast on Amazon.
One thing you didn't know you needed? This seriously strong double-sided tape to quickly hang things without needing to bust out your toolbox. And then there's the waterproof case that'll keep your phone safe on beach days and even let you take cool underwater pictures. Or how about the reusable pet hair remover that suddenly makes living with your cat or dog a lot easier?
The other thing about wildly popular products that keep selling out is that they're tried and true by other shoppers. So you know you're getting something that works, and thousands of people have vouched for it. So keep scrolling to find your new favorite products that make life easier. Just be sure to add to cart quickly — before they sell out.