7 money talks couples should have if they're serious about their future together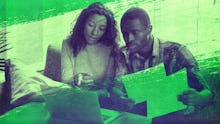 fizkes/Shutterstock
Talking about finances is rarely fun, but if you're in a long-term relationship, it's an essential discussion to have. And no, not just once — there are actually several money conversations couples should have before getting married or making a similar commitment. As Jayne Hladio, senior vice president of U.S. Bank Wealth Management, tells Mic, "Just like being married, money and finances are an ongoing process, not a one-time event."
In a survey of over 1,000 American adults, Ramsey Solutions found that money is the number one issue married couples argue about, and it's also the second leading cause of divorce. Yet the study noted that couples who talked openly and frequently about money reported being happier, with those who said they have a "great" marriage almost twice as likely to talk about money on a daily or weekly basis than those who said their marriage was just "OK" or "in crisis."
In other words, while shying away from finance-focused conversations may feel like a relief now, it isn't going to benefit your relationship in the long run. "[Having those talks early on] ensures that you and your partner stay in control of your relationship; otherwise, financial friction can build up and wreak havoc on your partnership," says Andrea Woroch, consumer and money-saving expert.
Not only will talking about money prior to making a lifelong commitment to each other show you both what common values you share, she explains, but it'll allow you to see how you differ in terms of spending and saving. "From meshing your spending personalities to creating a secure financial future, focusing on money as a couple early can pave the way to a happily ever after," says Woroch.
Below, Hladio, Woroch, and other finance experts reveal the specific money topics you and your partner should discuss if you're serious about your lives together.