7 signs you need a mental health day — and how to ask for one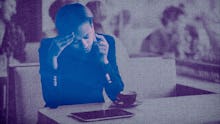 MinDof/Shutterstock
Although the reasons may vary (a sudden break-up, a stronger-than-average feeling of anxiety, a stress-filled week, etc.) the feeling is universal: the need to stay home from work to get some rest and regroup. Yet while you've likely experienced plenty of signs you need a mental health day before, it can be difficult to know what to say to your boss when you want to take time off for this reason — is it OK to just be honest?
Yes, according to Andrea Goeglein, a psychologist and founder of ServingSuccess. "Your mental health is your responsibility, and no one else's — not your boss', not your partner's, not your children's," she tells Mic. "You need to care enough about yourself to ask for what you need and can't expect others to read your mind."
Mental health days can be crucial not only to help you re-energize, but to help ward off workplace burnout — an issue so common that the World Health Organization (WHO) recently announced that it'll be included in its upcoming handbook of conditions and diseases. "Mental health days are really driven by the degree to which our functioning at work is diminished," Joshua Klapow, Ph.D., clinical psychologist and host of The Kurre and Klapow Show, tells Mic. "This is caused by the presence of psychological, emotional, behavioral, and/or physiological symptoms, from stress to anxiety to anger to distress."
While some people might feel guilty taking mental health days because they believe they're only meant for those actually suffering from mental illness, getting that time off can help restore the wellbeing of anyone, regardless of if they have clinically diagnosed disorders. Here, Klapow and other experts weigh in on clues that you may need to take a day off, as well as how to go about asking for it if you're intimidated to do so.