75 clever gifts people will like 10x more than what they usually get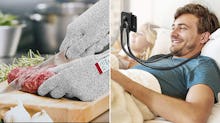 We may receive a portion of sales if you purchase a product through a link in this article.
If you're tired of racking your brain for thoughtful gifts you know will probably end up in the donation pile, then you might want to just forgo the whole gift-giving routine. But, as a good friend/sister/brother/partner, you still feel compelled to show your love with an offering. Well, despair no more, because this extensive list will give you 75 clever gifts people will like ten times more than what they usually get.
There are products on this list that will suit any kind of enthusiast. Grab a clever hiking backpack that folds down into a pouch or some trekking poles for the trail hound. Or, for the avid cook, opt for an ingenious avocado slicer that cuts, slices, and scoops all in one gadget. And for those who love a picnic, a wine chiller made with double-wall insulation will keep their beverages cool no matter how sunny the day.
So, regard your gift list with relief, because I guarantee there is something below that will fit the bill perfectly and firmly skirt the Goodwill pile.