How to raise your credit score — even if you've made plenty of mistakes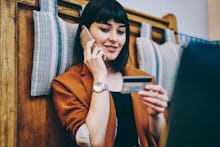 Shutterstock
Your credit score can affect everything from what kinds of cards you're eligible for to whether or not you'll be granted a car or an apartment lease. Clearly, it's incredibly important — but according to a recent report, nearly half of adults surveyed had a major misconception when it came to building their credit score.
When credit education company Credit Card Insider spoke to 1,051 adults about their finances, 42% of people said that they believed using your debit card or selecting "credit" while using your debit card builds your credit history or score — but this isn't true. Debit cards don't have any impact on your credit score whatsoever, and as for whether you select "credit" or "debit" at checkout? All that does is determine how the merchant processes the card and what fees it pays.
"There are a lot of misconceptions regarding how to build credit," says Ted Rossman, industry analyst for credit advisory site CreditCards.com. Because a debit card draws from a pool of money you already have, he explains, using it doesn't affect your credit score. Paying off your credit cards or loans on time, however, does. "In general, building credit means demonstrating that you can pay companies back after they've extended a loan or line of credit to you," says Rossman.
If you've long operated under the mistaken belief about how to build up your score, don't worry — there are plenty of ways you can still boost that number (which for most common credit score metrics is ideally above 700, with 800 as the true goal, according to credit reporting company Experian). Here, Rossman and other finance experts share the best and easiest tips for increasing your credit score.