50 absurdly clever & useful products under $25 on Amazon Prime
Affordable, useful products that'll be delivered ASAP.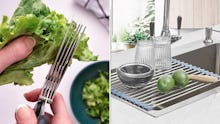 Amazon
We may receive a portion of sales if you purchase a product through a link in this article.
Over the past few months I've noticed that credit card bills have slowly been trending upwards, which is why I've decided to start saving money — the only problem is that I'm a bit of an impulse shopper. That's why I've made a deal with myself: I'm still allowed to buy whatever I want, but only if the item is 1) something I'm going to be using on an everyday basis, and 2) it has to be $25 or less.
With that in mind, I've put together this list of absurdly clever and useful products that cost less than $25. From rust-resistant drain protectors to reusable pet hair removers, you're almost guaranteed to get a ton of use out of each product I've included below. So if you're trying to save money — or if you're simply trying to scratch that impulse-shopper itch — then you'll definitely want to keep scrolling for more.