This AKC-recommended dog jacket is so easy to get on — and it's on sale right now
A cleverly designed jacket that your dog (and you) will *actually* like.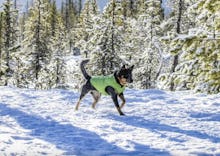 Kurgo
We may receive a portion of sales if you purchase a product through a link in this article.
Sometimes it feels like dog jackets were designed by someone who has never owned a dog — but Kurgo's popular Loft Jacket features clever features like zip-up harness access, water resistance, and the ability to reverse it for a new look so it's easy for you and comfortable for your pup. Plus, the style is designed to suit athletic dogs and couch potatoes alike, and it comes in five sizes.
Fast facts:
Easy on and off: Slips over the head, then Velcros underneath
Water resistant: Designed for light rain, puddle splashing, and more
Harness access: Zip-up opening on the top for harnesses
Reversible: Two looks in one
Wide size range: 5 sizes ranging from X-small to X-large, encompassing chest sizes running from 15 to 45 inches (and it comes in 6 colors)
Made to last: Chosen by the AKC as the most durable winter coat for dogs
Why do dogs need a jacket?
While a few breeds (like malamutes and huskies) have winter-ready coats, the AKC suggests protecting senior dogs and smaller or leaner breeds, as well as those with short or shaved fur, and pups with short legs (like corgis). The AKC also recommends keeping a dog coat on hand (as well as boots) not only for cold weather, but in case your home loses power during the colder months.
The Loft Jacket isn't just for chilly days either. Thanks to its water-resistant and windproof shell, it can keep pups dry on a rainy day and protect them from twigs and burrs when they're chasing a squirrel in the bushes.
Pup-friendly design
This jacket was created to make getting it on and off easy: Unlike models that require you to try to clip buckles around a wriggling pooch, it slips easily over their head and is secured with adjustable Velcro beneath the belly. A two-way zipper at the top of the neck allows for easily attaching to a dog's collar or harness (however, there is no place to attach front-attaching harnesses).
Kurgo designed the Loft Jacket with an athletic fit, giving dogs full range of motion for running, jumping, zoomies, napping, and more. This may be why reviewers on the brand's site say even dogs that usually don't like wearing jackets tolerate it well. While it protects the chest and part of the belly from heat loss, it tapers to avoid covering the groin to avoid any splashes. (It's also machine washable.)
It features a water-resistant ripstop shell that's woven to prevent tearing and lightweight yet warm polytech filling. The brand stands by the quality of the jacket, too — it offers a lifetime guarantee, repairing or replacing any jacket with a manufacturing defect. The brand also offers refunds within 45 days of purchase if it's just not for your dog (or you).
More adventure-ready dog gear
If you're looking for more high-quality gear for adventures with your pup, Kurgo makes a line of travel supplies (including booster seats, swivel tethers, and clever products for feeding on the go), as well as backpacks that let you tote your dog on the trail or in the city.