Amazon keeps selling out of these 40 cheap fitness products that work so freaking well
We only recommend products we love and that we think you will, too. We may receive a portion of sales from products purchased from this article, which was written by our Commerce team.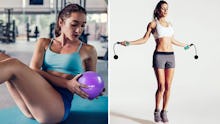 If you're looking to revamp or restart your workout routine, there's no time like the present. For some, that might be as simple as dusting off your gym membership, or lacing up your running shoes and hitting the pavement. For the rest of us (ahem), we might get a boost from stocking up on new products and pieces of equipment to help achieve our fitness goals. And, depending on how seasoned of an athlete you are, you might know exactly what you're looking for, or you may not know where to start — and that's OK! Plenty of people have been there, and they've left the product reviews to prove it. This list of 40 cheap fitness products that keep selling out on Amazon will surely help you find a way to freshen up — or begin — your exercise routine
And don't worry if you haven't broken a sweat in a while. There's plenty here to choose from for people of all skill levels. Seasoned gym goers will appreciate the many ways you can recreate some of your favorite workouts at home with just a few inexpensive supplies (like a trusty jump rope), while beginners will love how many of these tools can be adapted or adjusted to accommodate a slower pace or lighter stretch (like this Pilates starter kit). No matter your level, please accept my corny high-five congratulating you on your efforts, because as many of us know, the toughest part is getting started.