Amazon shoppers are rushing to buy these popular new products that save people so much money
From a portable blender to furniture-saving polish, these items are gold.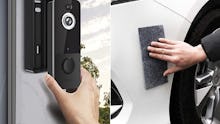 We may receive a portion of sales if you purchase a product through a link in this article.
There's no question that Amazon has become indispensable — I mean, how else would you order purple mopping slippers at 2 in the morning, with the possibility of having them at your door later that day? The only problem with the retail giant is that sometimes the sheer scope of its inventory can be slightly overwhelming. If you want to know what's fresh on the site — and worth spending your pennies on — here are the hottest new releases on Amazon.
All of these things have practical money-saving applications that will actually make you feel virtuous about spending a little money. For example, take these reusable dish towels that are more absorbent and versatile than paper towels. You can use them for a wide variety of jobs, from wiping down countertops to scrubbing dishes.
You'll also love feel-good items like this warming blanket that's the perfect date for movie night. It's so soft on its own, but when plugged in, will keep you toasty enough to resist turning up the thermostat, saving you a little money on your energy bill. It's a win-win.
Take a tour of these shopper favorites and you'll see why they have become instant hits.