Amazon's selling a ton of these men's shoes that make you look taller (& no one would know)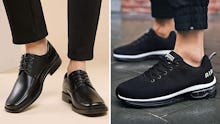 Amazon
We may receive a portion of sales if you purchase a product through a link in this article.
Finding shoes you'll love — and actually wear — can feel akin to the search for the Holy Grail. Comfort, style, durability, and a price that doesn't make you curse are all ideal features. But what if your shoes had all of those things and they also gave you added height (along with the potential for added confidence and a feeling of power)? I'm here to show you that all these elements can coexist in quite good-looking footwear. If you're seeking shoes that make you taller, opt for sneakers and hiking boots that have chunky soles and loafers with subtle lifts — these builds tend to look balanced while adding inches to your height.
Many work boots, athletic shoes, and dress shoes make men taller without even stating that as a goal. And many super modern chunky sneakers give you a bit of extra height without even trying. The added heft to the sole is so your feet will be comfortable or to add traction. Of course, there are also height-increasing shoes that intentionally set out to accomplish this trick. Usually, those are slapped with the label "elevator shoes for men." But the shoes in this list are not your granddaddy's lifts. These are trendy, fun, comfortable, affordable, and surprisingly secretive about the clever tricks they use to add a boost to your stature.