America's response to coronavirus was a clusterfuck. Here's how other countries got it right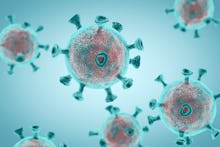 dowell/Moment/Getty Images
Public health experts have lauded Hong Kong and Singapore's responses to the novel coronavirus — the United States' response, not so much. Countries that have handled it well acted early and quickly to test and treat people, whereas the US has lagged in its testing capacity, NPR reports. But according to Vox, it may not be too late for the US to take at least a few cues from Taiwan, another country praised for its response to the novel coronavirus.
Hong Kong and Singapore, which the virus struck early, each have detected fewer than 200 cases of the disease, or COVID-19, and have steered clear of huge outbreaks, NPR reports. Germany, France, and Spain were struck later, and each has around 2,000 or more. There are more than 10,000 in Italy, and The Guardian reports there were 9,000 in Iran as of March 11.
Mike Ryan, the World Health Organization's head of emergencies, told NPR that "a systematic, government-led approach" that takes full advantage of all available resources seems to be effective. Hong Kong, for instance, developed tests and rolled them out right away to all of its major hospitals, and quarantined 12,000 people in February, while the prime minister of Singapore told residents COVID-19 testing and treatment would be provided at no cost. Both sought to diagnose and treat every case in their populations.
In contrast, Italy and Iran seemed to brush off the threat of COVID-19, Ashish Jha, the director of the Harvard Global Health Institute, told NPR. Neither did much testing, even as people began to display symptoms, nor did they show urgency in halting mass gatherings.
"Our response is much, much worse than almost any other country that's been affected."
As for the US — where there have been more than 1,300 cases as of Thursday afternoon Eastern Time, per the New York Times — "our response is much, much worse than almost any other country that's been affected," Jha told NPR. Although the Centers for Disease Control and Prevention began screening international travelers in mid-January, the initial tests it developed were faulty, a mess that's taken weeks to address. The US finally began offering wide-scale testing this week.
Limited testing capacity has prevented us from knowing the full extent of the virus's spread, which, in turn, has prevented us from knowing who to isolate, Jha told NPR. Rather than targeted prevention, the country now has no choice but to shut down pretty much everything. Jha predicts that there are five to 10 times more cases in the US than have been detected, and since we don't know who the infected people are, they'll only continue to transmit COVID-19.
According to Vox, though, it's not too late for the US to at least partly follow the example of countries that got it right, like Taiwan, which had only 45 cases of COVID-19 and one death as of March 10, despite getting droves of visitors from China last year. Stanford Health Policy researcher Jason Wang told Vox that shortly after the SARS epidemic, Taiwan built a round-the-clock National Health Command Center that brought together experts in media, government, data analysis, and more. Wang said that while the US has a COVID-19 task force, a physical command center would be ideal.
Plus, after learning of even a few cases reported in China, health officials boarded every incoming flight from Wuhan and checked passengers for symptoms, before there was community spread — that is, people who haven't traveled internationally or had contact with known cases getting sick, suggesting they were infected by a source in the community, Wang said. In contrast, while the US grappled with testing capacity, community spread was already underway.
The Taiwanese government also held daily press conferences updating people of the cases identified, and whether they were of international versus domestic origin, which kept the public calm, Wang told Vox. But, amid the community spread in the US, in some instances, it's unclear how people have gotten infected, a big, understandably scary unknown.
The US still has an opportunity to employ a few of Taiwan's strategies. Wang told Vox that the US has lots of underutilized resources — tech companies and government agencies, for instance — which aren't really working together. He also said public communications needs to improve, and that the US could set up a text message-based system that alerts people of infection hot spots. That way, people who've gone near them and start experiencing symptoms know to self-quarantine. There's time yet for the US to be proactive and at least slow COVID-19's spread; whether those in power will mobilize to do so is another story.