How Anna Kendrick found her way back from an abusive relationship
The Alice, Darling star opened up about her mental health in a new interview.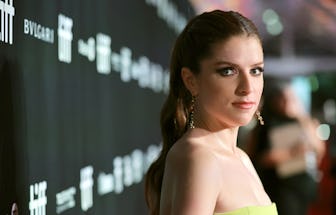 Amy Sussman/Getty Images Entertainment/Getty Images
Celebrities have the power to perpetuate a fashion, wellness, or cosmetic beauty trend, and influence fans and passive scrollers in the process. The same can be said about their impact on mental health awareness and the importance of seeking help when needed. Arguably, it's what's helped contribute to the dismantling of the harmful stigma so many of us have had to grow up with. The more you talk about something, the less of a hold it has on you, after all. Anna Kendrick proved this to be true during a recent appearance on the Armchair Expert podcast, hosted by Dax Shepard and Monica Padman.
While promoting her new film Alice, Darling — in which she plays a young woman in a psychologically abusive relationship — Kendrick opened up about leaving her own long-term toxic relationship and the steps she took toward healing. ​​The actor, who initially revealed she had been in an emotionally abusive relationship ahead of Alice, Darling's world premiere at the Toronto International Film Festival, shared new details on the podcast. She told Shepard and Padman that everything was going well up until the last year of the relationship with her then-partner of six years. At that point, she said, she noticed a personality shift in her ex, who later revealed he had feelings for someone else — but she struggled to prioritize her self-worth.
"It wasn't just the, 'Oh, I'm losing a relationship.' It was that I believed that if we broke up or, you know, if he left basically, it was a confirmation that it's because I'm impossible, I'm lucky that he's even tolerating my bullshit," Kendrick said on the podcast. "There was an inherent thing of me being so rejectable that this person who loved me very deeply for six years, it suddenly occurred to him, how awful I was or something. The shame, that lingers much longer."
Despite the blow, the Pitch Perfect star was quick to act. Kendrick said she got in touch with her agency and let them know she needed time to focus on herself, and then did just that. The actor began intensive therapy and started attending Al-Anon — a group for friends and family of alcoholics — in addition to practicing meditation.
"All of these things ended up being very wonderful things for me in the long run, but initially went into them thinking, 'Tell me how to stop being crazy. Tell me how to stop feeling anything,'" Kendrick said.
If there's anything we can take away from Kendrick's admission, it's that vulnerability is ultimately a superpower, and being proactive about your mental health is vital — something it seems we can all agree on. A 2019 survey by the American Psychological Association found that 87% of American adults believed having a mental health disorder is nothing to be ashamed of, and 86% believed people with mental health disorders can get better.
It may not feel that way in the moment, but prioritizing your mental health is always, always, always the answer.
If you or someone you know is seeking help for mental health concerns, visit the National Alliance on Mental Illness (NAMI) website, or call 1-800-950-NAMI (6264). For confidential treatment referrals, visit the Substance Abuse and Mental Health Services Administration (SAMHSA) website, or call the National Helpline at 1-800-662-HELP (4357). In an emergency, contact the 988 Suicide & Crisis Lifeline by calling or texting 988, or call 911.