Any of these clever, cheap things would make your dog behave better
Easy tricks for a calmer, happier pet ahead.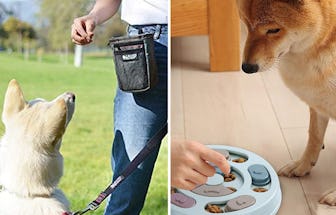 Amazon
We may receive a portion of sales if you purchase a product through a link in this article.
No matter how much you love your dog, it can still be frustrating when they don't follow your commands or household rules. Luckily, Amazon is stocked with clever, cheap things to make your dog behave better that hundreds of shoppers have had success with. There are products to help your pup stay calmer, picks they can chew on and destroy (instead of your shoes), items that make training easier, and more. Every item is under $50 and many are less than $20.