Any of these genius products would be better than whatever the hell you're currently using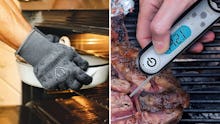 We may receive a portion of sales if you purchase a product through a link in this article.
While it's easy to get into the routine of relying on the same products day in and day out, it can also mean you're wasting a ton of money without even realizing it. For example, paper towels may be a convenient way to wipe up spills, but switching to reusable dishcloths can help you save a good chunk of change over the course of a year. That's why I've put together this list of genius products that are likely so much better than whatever you're currently using. From over-the-sink dish racks to microfiber floor mops, I've made sure that each item below is a definite upgrade from their traditional versions.