I put Arm & Hammer's new eco-friendly detergent to the ultimate test
Can little sheets of detergent work as well as my normal liquid?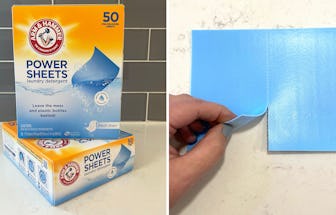 We may receive a portion of sales if you purchase a product through a link in this article.
Bulky liquid laundry detergent containers are difficult to pour and can leave behind drips on your machine and counters. They also generate a lot of plastic waste. So, when I heard about ARM & HAMMER's new Power Sheets, I was intrigued.
The company promises the same deep clean as the brand's liquid detergent but in a paper-based box that is completely recyclable. The 50 sheets are pre-measured and are designed to fully dissolve in all water temperatures, even cold. It's also supposed to work in standard top or front loaders and high-efficiency models. These are some strong claims (but appealing), so I decided to give the product a try.
Fast facts
Pre-measured laundry detergent sheets
50 perforated sheets for up to 100 loads of laundry
Usable in all water temperatures, even cold
Packaged in a recyclable paper box
Scented; fresh linen fragrance
Free from phosphates, bleach, and brighteners
Not tested on animals
How I tested
The ARM & HAMMER Power Sheets need to be placed directly in the washing machine drum before clothing (they are not intended for use in a tray or dispenser). While the box comes with 50 sheets of detergent, that doesn't mean you'll only get 50 loads of laundry with them. The directions state one sheet is for a medium load. However, if you're doing a small load, utilize the perforated line to rip a sheet in half and just use one half for the load. For large or heavily solid loads, toss in two sheets.
In order to thoroughly test the ARM & HAMMER Power Sheets, I did three very different loads of laundry:
For my first round, I washed a medium-sized load of light-colored items — including a white skort that had some bright orange vodka pasta sauce stains on it (which I pre-treated with Shout, as I normally would). I put one detergent sheet in my top-loading washing machine per the instructions and used my typical settings, which is a "normal" wash on warm.
The second load that I ran was a large one containing my household's dark clothes. I added two detergent sheets this time, then turned the machine to cold to determine if they'd fully dissolve on this setting (which I was skeptical about).
Lastly, it was sheet-washing day, so I stripped all of our beds and put two detergent sheets in the washing machine — because sheets are quite bulky — before running the load on warm.
The results
The ARM & HAMMER Power Sheets fully dissolved in all washing temperatures, leaving behind no residue — even on the load washed in cold, which was impressive. My clothes and sheets felt clean (with the exception of a few extra-dirty items, which might need a second wash to fully refresh); even the orange stains completely came out of my white skort.
I usually gravitate towards fragrance-free laundry products, so I was worried about this pick's fresh linen fragrance. Post-wash, my clothes and sheets didn't have an overpowering scent; it was light and enjoyable.
Final verdict
I will be reaching for ARM & HAMMER Power Sheets in the future. They were easy to use and worked well. Plus, they're a no-brainer for traveling thanks to their compact nature. Lastly, I feel good knowing that the packaging is recyclable and that they have a smaller carbon footprint.
What Amazon reviewers are saying
I'm not the only person who has gotten good results from the ARM & HAMMER Power Sheets. Here's what some Amazon reviewers had to say:
"You will be impressed by the scent, the lovely softness from the product, and it's eco friendly so I am going to be purchasing more of these! Definitely recommended," wrote one fan.
"These are great! Mainly because their scent isn't irritating and overwhelming to my sensitive nasal senses like most brand names. It's easy and soft but smells fantastic like fresh springtime. They're also super portable for trips because they lay flat and fit perfectly in a zipper sandwich baggy. Recommend with 5 stars," added one commenter.
"It is very reasonably priced when compared to other detergents at the current price of $14.99 for 100 small loads and 50 large loads. The sheets are a lot cleaner to measure out than the liquid laundry detergent and they work better than the pods that leave residue in my washing machine. [They] did leave the clothes very clean," wrote another.