These Are The Best Socks You'll Ever Wear — & Here's Why
These cult-fave no-show socks are so comfortable.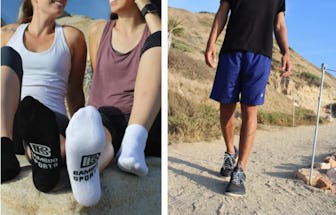 Amazon
We may receive a portion of sales if you purchase a product through a link in this article.
If you're into any kind of sport or have a job that keeps you on your toes (literally), you know that a good pair of socks is essential for staying comfortable and dry — so you can avoid annoying foot issues. So it's no surprise then that the best socks for an active lifestyle were first made for skaters. Based in Southern California, Bamboo Sports started out making bamboo skateboards but expanded to make an entire line of bamboo products, including its bamboo socks that have earned a cult following among skaters and non-skaters alike. The brand's newest super low-cut no-show socks are a must-have for pretty much everyone.
First, Why Bamboo?
While cotton may be the first material that comes to mind when you think of socks, it's not great at keeping feet dry because it clings to moisture. Bamboo, on the other hand, is moisture-wicking and has anti-fungal and antimicrobial properties — making it the ideal, breathable fabric for socks. For skaters, yeah, but for everybody, too. Bamboo is also a sustainable crop — some species can even grow several feet in one day.
The Cult-Fave No-Show Bamboo Socks
Low-cut socks are perfect for wearing with anything from tennis shoes to flats, but the problem with most low-cut socks is that they slip off, which is a total pain and completely defeats their purpose. Bamboo Sports' newest model of low-cut socks are not only "no show" but won't slip off when wearing most shoes, from loafers to booties, thanks to the extra silicone grips in the heel. Made of ultra-soft bamboo, these socks are also breathable, moisture-wicking, and odor-zapping. Grab a four-pack in your choice of three neutral colors.
Helpful Review: "No show? How about no-feel? These socks are so light, I didn't feel like I had anything on my feet at all! They are thick enough to protect your feet and keep them comfortably warm, but thin enough that they are not heavy, and you won't get overheated from wearing them. Not a lot of cushion, but that's not why you'd be buying no-show socks anyway. Light and breathable fabric, makes them perfect for any style shoe. [...]"
The Bamboo Crew Sock
Avid skaters, hikers, and work-boot wearers, listen up. Bamboo Sports' bamboo crew work socks are designed to take a beating and feature a thick bamboo weave that regulates temperatures to keep feet dry all day. They come in three-packs and are also available in an assorted box that's easily giftable.
Helpful Review: "Socks kept my feet dry after wearing for 10hours. They stay up and don't slide down over time. Love them."
The Bamboo Ski & Snowboarding Sock
When cold weather hits, Bamboo Sports ski & snowboard socks are just what you need to hit the slopes. Available in four two-tone color options, they're designed to keep feet warm, dry, comfortable, and odor-free — even after a full day of extreme winter sports. And since they hit at the knee, they'll add an extra layer of warmth to winter gear.
Helpful Review: "I picked these up for a week long trip to Park City for Boarding. I ended re-using these every day over my Stance ski socks. I should have bought more lol..."