The 6 best aftershaves for razor burn
We only recommend products we love and that we think you will, too. We may receive a portion of sales from products purchased from this article, which was written by our Commerce team.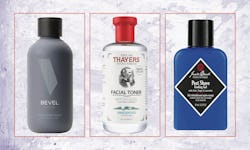 Mic/Amazon
Aftershaves have come a long way from super strong alcohol-based splashes (remember that scene from Home Alone?). These days, the best aftershaves for razor burn are alcohol-free and contain gentle, plant-based astringents and moisturizers that can help close the pores and retain moisture on freshly shaved skin. And though the word "aftershave" may conjure thoughts of pungent tonics, there are many mildly scented or even fragrance-free options in different application forms, including gels, lotions, and sprays.
Most aftershaves will have a combination of active ingredients that aim to calm and hydrate skin. Look for a product made with tea tree oil or witch hazel, which both have anti-inflammatory properties. Similarly, menthol has a cooling effect on the skin and can help soothe mild pain if you're literally feeling the burn. As for hydration, nut oils like macadamia are incredibly moisturizing, as is aloe vera and glycerin. If you're prone to ingrown hairs as well as razor burn, consider an aftershave with gentle exfoliating acids to prevent that in the future. And if you have sensitive skin, the majority of aftershaves below are free from most potentially irritating synthetic fragrances and dyes.
Whether you prefer a classic aftershave splash, spray-on oil, gel, or balm, these are the best aftershaves for razor burn to help soothe your inflamed skin and keep it hydrated.
Studies referenced:
Pazyar, N., Yaghoobi, R., Bagherani, N., & Kazerouni, A. (2013). A review of applications of tea tree oil in dermatology. International journal of dermatology, 52(7), 784–790.
Thring, T. S. A., Hili, P., & Naughton, D. P. (2011). Antioxidant and potential anti-inflammatory activity of extracts and formulations of white tea, Rose, and witch hazel on primary human dermal fibroblast cells. Journal of Inflammation, 8(1).
Hanum, T. I., Laila, L., Sumaiyah, S., & Syahrina, E. (2019). Macadamia Nuts Oil in Nanocream and Conventional Cream as Skin Anti-Aging: A Comparative Study. Open access Macedonian journal of medical sciences, 7(22), 3917–3920.
Surjushe, A., Vasani, R., & Saple, D. G. (2008). Aloe vera: a short review. Indian journal of dermatology, 53(4), 163–166.
Fluhr, J. W., Darlenski, R., & Surber, C. (2008). Glycerol and the skin: holistic approach to its origin and functions. The British journal of dermatology, 159(1), 23–34.
Tsai, T. H., Chuang, L. T., Lien, T. J., Liing, Y. R., Chen, W. Y., & Tsai, P. J. (2013). Rosmarinus officinalis extract suppresses Propionibacterium acnes-induced inflammatory responses. Journal of medicinal food, 16(4), 324–333.