The 6 best B12 supplements, according to a doctor
We only recommend products we love and that we think you will, too. We may receive a portion of sales from products purchased from this article, which was written by our Commerce team.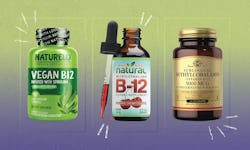 Mic/Amazon
Vitamin B12 is a nutrient that's naturally present in many foods and helps keep your blood and nerve cells healthy. However, if you have trouble getting enough B12 from your diet, the best B12 supplements contain a form of this vitamin that's easily absorbed by the body, and they're vegan to cut down on the number of potential allergens and other dietary restrictions, according to Daniel Boyer, M.D., a researcher with the Farr Institute in Iowa. "Essential vitamins like vitamin B12 play a vital role in the body," Dr. Boyer tells Mic. "The body cannot manufacture them which means that you have to supplement them, [preferably] in your diet."
The vitamin itself is available in several forms, most commonly methylcobalamin and cyanocobalamin. However, the best option is clear. "Go for the methylcobalamin form of vitamin B12 because it is absorbed much better by the body than other forms of vitamin B12," says Dr. Boyer. All of the picks on this list contain methylcobalamin B12, and they come in a variety of forms, including capsule, gummy, or liquid, so you can find the best fit for your preferences.
As for the daily dose, it's generally recommended that adults get 2.4 micrograms (mcg) per day — but it's always advised to check with your doctor first to set the right dose for you. Most B12 supplements contain a higher dose than you actually need because the body absorbs very little B12. "Taking supplements of vitamin B12 is generally considered safe," says Dr. Boyer, "because even if you take a higher dosage of vitamin B12, your body will absorb as much as it can then excrete the rest."
So, with all that in mind, here are the best B12 supplements you can add to your daily routine — some also contain other vitamins, like folate or D3, so you get additional nutrients with every dose.
Expert:
Daniel Boyer, M.D., a researcher with Iowa's Farr Institute