The 5 best humidifiers for dry noses
We only recommend products we love and that we think you will, too. We may receive a portion of sales from products purchased from this article, which was written by our Commerce team.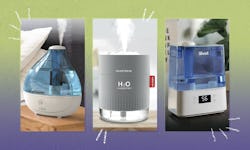 Mic/Amazon
Dry air can lead to a runny nose, headaches, and other sinus issues, but the right humidifier can help keep you comfortable. To help soothe your sinuses, the best humidifiers for dry noses add moisture to the air while being easy to clean and quiet, so you can use them as much as needed. When shopping for a humidifier, specs such as tank size will help you narrow down the right one for your home — and some even have extras such as Wi-Fi compatibility, a diffuser function, and filtration for keeping odors at bay. But the first big decision is the mist temp: cool or warm.
Though a cool-mist humidifier may be better for easing cold and sinus issues, warm mist can help prevent accumulated bacteria from being dispersed. Both options will add moisture to the air, but a cool-mist humidifier is recommended for safety if you have children or pets. Either way, to help maintain optimal humidity (which is between 30 and 60%, depending on the season), you might want a humidifier with a built-in humidistat that will automatically adjust mist output.
Next, you'll want to choose a humidifier that's the right size for your room. A too-small humidifier won't release enough moisture, while an overly large option can create too much humidity and lead to mold and dust mites. A humidifier's coverage is measured in square feet, so opt for one that's roughly the same size as your room.
And because it's important to clean your humidifier regularly — especially if you plan on using it daily to help prevent a dry nose — each option below is low maintenance and has tanks that are detachable or top-fill style so they're easy to carry, rinse, and refill. What's more, each humidifier on the list is ultrasonic, so they're quiet and energy-efficient. In addition, all options below have auto shut-off functions should the water get too low.
Whether you're looking for a whisper-quiet humidifier for your bedroom or a desktop option for your office, read on for the best humidifier for dry noses.