The 4 best hypoallergenic lotions for dry skin, according to a dermatologist
We only recommend products we love and that we think you will, too. We may receive a portion of sales from products purchased from this article, which was written by our Commerce team.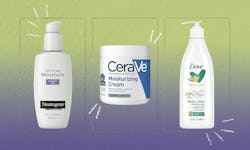 Mic/Amazon
Finding a great moisturizer that won't irritate your skin is not as straightforward as some brands may claim. "Product labels that say 'hypoallergenic' or 'sensitivity tested' do not guarantee that you won't experience a skin reaction. There are no rules about how these terms can be used on a label," Dr. Hadley King, a board-certified dermatologist in New York City, explains to Mic. But by scanning the ingredients list, you can see that the best hypoallergenic lotions for dry skin are free from the most common irritants — and that they do contain a proven combo of hydrating ingredients.
"Almost any ingredient could cause an allergic reaction but fragrances and preservatives are often to blame. Even products that are labeled as 'unscented' may still contain fragrance and can therefore still cause an allergic reaction," says Dr. King. To help avoid irritation, Dr. King suggests choosing products that are labeled "fragrance-free" and keeping an eye out for potentially irritating preservatives like parabens, imidazolidinyl urea, quaternium-15, DMDM hydantoin, phenoxyethanol, methylchloroisothiazolinone, and formaldehyde.
It can also help to choose a product that has the National Eczema Association's (NEA) Seal of Acceptance. "NEA Seal of Acceptance criteria includes a list of ingredients that should be avoided because they contain known irritants," says Dr. King. Still, it may not be possible to avoid every potentially irritating ingredient, so Dr. King recommends doing a patch test before using any new product.
When it comes to hydration, Dr. King explains: "Moisturizers ideally contain three components: humectants, emollients, and occlusives. It's important to look for products that contain all three." Humectants like glycerin and hyaluronic acid help prevent cracking and chafing. Emollients like squalene, fatty acids, cholesterol, and ceramides "help in skin barrier function, membrane fluidity, and cell signaling, leading to overall improvement in skin texture and appearance," Dr. King adds. Finally, occlusives such as petrolatum, beeswax, and mineral oil "form an inert layer on the skin and physically block transepidermal water loss," helping to keep skin hydrated.
Whether you want to moisturize your face, body, or both, scroll on for the best hypoallergenic lotions for dry skin that are fragrance-free and expert-approved.
Expert:
Dr. Hadley King, a Board-certified dermatologist in New York City