The 7 best hypoallergenic pillows, according to experts
We only recommend products we love and that we think you will, too. We may receive a portion of sales from products purchased from this article, which was written by our Commerce team.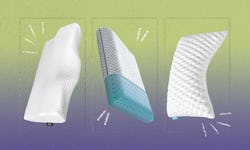 Mic/Amazon
If your allergies are triggered at bedtime, you may already know there are no standards or regulations for how bedding brands can use the term "hypoallergenic." As a spokesperson for the Asthma and Allergy Foundation of America (AAFA) explains to Mic, "It's a word many consumers have become comfortable with. It makes some believe anything with this label is better for them and less likely to trigger asthma and allergy symptoms." According to AAFA, the best hypoallergenic pillows are easy to wash so you can remove allergen accumulation, and they're free from potentially irritating chemicals.
Dust mites are a major cause of nighttime allergies, and they "live practically everywhere, especially in fabric-covered items in your house and bedroom," says AAFA. That's why hypoallergenic pillows have an outer cover that creates a barrier against dust mites and other allergens, and the pillow covers are often removable and machine-washable to reduce allergen buildup. If you choose a pillow without a removable cover, make sure the pillow itself is machine-washable or add your own washable cover to make it more allergy-friendly.
Dust mites also "like humidity levels of 70 to 80%," according to the AAFA, so the best allergy-friendly pillows have tightly woven covers that are still breathable, protecting your pillow without creating too much humidity. Choose from materials such as cotton, polyester, and bamboo to help regulate temperatures (and keep you from overheating, too).
And since dust mites aren't the only allergy-triggering culprit, according to AAFA standards, hypoallergenic pillows do not "contain chemical compounds in excess of levels known to trigger allergies," such as phthalates or formaldehyde. The products below are backed by OEKO-TEX, GREENGUARD Gold, or CertiPUR-US certifications that show they've been tested for chemicals.
Finally, AAFA says, "There is no one pillow fill that is best for people with allergies," so it might take a little bit of trial and error to find the best one for you and your allergies. As long as the pillow meets the allergy-reducing standards mentioned above and you're not specifically allergic to the material, focus on the fill and firmness level you like best. Most pillows below are good for all sleeping positions, but some are specifically designed for side sleepers.
With all that in mind, scroll on for the best hypoallergenic pillows. They're all easy to wash, breathable, and backed by glowing reviews from Amazon shoppers.
Expert:
Asthma and Allergy Foundation of America (AAFA)
Studies referenced:
Romano, M., James, S., Farrington, E., Perry, R., & Elliott, L. (2019). The impact of perennial allergic rhinitis with/without allergic asthma on sleep, work and activity level. Allergy, asthma, and clinical immunology : official journal of the Canadian Society of Allergy and Clinical Immunology, 15, 81. https://doi.org/10.1186/s13223-019-0391-9
Robinson, L., & Miller, R. (2015). The Impact of Bisphenol A and Phthalates on Allergy, Asthma, and Immune Function: a Review of Latest Findings. Current environmental health reports, 2(4), 379–387. https://doi.org/10.1007/s40572-015-0066-8
Lyapina, M. (2012). ALLERGIC CONTACT DERMATITIS FROM FORMALDEHYDE EXPOSURE. Journal Of IMAB - Annual Proceeding (Scientific Papers), 18, 4(2012), 255-262. https://doi.org/10.5272/jimab.2012184.255