The 7 best toothpastes for canker sores, according to a dental hygienist
We only recommend products we love and that we think you will, too. We may receive a portion of sales from products purchased from this article, which was written by our Commerce team.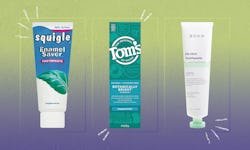 Mic/Amazon
When it comes to canker sores (also known as aphthous ulcers), Elizabeth Graves, a registered dental hygienist and founder of Take Home Smile, tells Mic: "Although you cannot speed up the healing process, you can avoid prolonging it." According to Graves, the best toothpastes for canker sores are free from sodium lauryl sulfate (SLS), a synthetic detergent commonly found in toothpastes that might cause a flare-up if you're prone to aphthous ulcers. Additionally, "toothpastes that have fewer chemicals and preservatives will help reduce canker sores," Graves adds. With that in mind, all of the toothpastes below are free from SLS and two other potentially irritating ingredients Graves recommends avoiding: baking soda and charcoal.
When shopping for an SLS-free toothpaste, first decide if you'd prefer a fluoride or fluoride-free formula. The American Dental Association (ADA) recommends toothpastes with fluoride to help strengthen tooth enamel and prevent decay. But if you prefer non-fluoride options, a study has shown that remineralizing toothpastes containing hydroxyapatite are as effective as fluoride toothpastes. Similar to hydroxyapatite, dicalcium phosphate dihydrate has shown scientific potential when it comes to strengthening enamel. Lastly, several options below include xylitol, an artificial sweetener that helps block the growth of cavity-causing bacteria — but it's scientifically inconclusive if xylitol is as effective as fluoride on its own.
Beyond toothpaste, a few additional things may help you prevent canker sores. Graves says, "Avoid acidic foods and maintain an overall healthy lifestyle, especially if you're immunocompromised. Keeping stress levels low will also help." And if you get frequent canker sores, Graves recommends consulting your medical doctor and dentist.
Below, these are the best toothpastes for canker sores in mint, non-mint, and flavor-free options to help prevent painful flare-ups and keep your teeth and gums healthy.
Expert:
Elizabeth Graves, a registered dental hygienist and founder of Take Home Smile
Studies referenced:
Barkvoll P. (1989). Må tannkremer skumme? Natriumlaurylsulfate--tannpastadetergent i fokus [Should toothpastes foam? Sodium lauryl sulfate--a toothpaste detergent in focus]. Den Norske tannlaegeforenings tidende, 99(3), 82–84.
Amaechi, B. T., AbdulAzees, P. A., Okoye, L. O., Meyer, F., & Enax, J. (2020). Comparison of hydroxyapatite and fluoride oral care gels for remineralization of initial caries: a pH-cycling study. BDJ open, 6, 9. https://doi.org/10.1038/s41405-020-0037-5
Meyer, F., Amaechi, B. T., Fabritius, H. O., & Enax, J. (2018). Overview of Calcium Phosphates used in Biomimetic Oral Care. The open dentistry journal, 12, 406–423. https://doi.org/10.2174/1874210601812010406
Nayak, P. A., Nayak, U. A., & Khandelwal, V. (2014). The effect of xylitol on dental caries and oral flora. Clinical, cosmetic and investigational dentistry, 6, 89–94. https://doi.org/10.2147/CCIDE.S55761
Riley, P., Moore, D., Ahmed, F., Sharif, M., & Worthington, H. (2015). Xylitol-containing products for preventing dental caries in children and adults. Cochrane Database Of Systematic Reviews. https://doi.org/10.1002/14651858.cd010743.pub2
Więckiewicz, W., Miernik, M., Więckiewicz, M., & Morawiec, T. (2013). Does propolis help to maintain oral health?. Evidence-based complementary and alternative medicine : eCAM, 2013, 351062. https://doi.org/10.1155/2013/351062