Bizarre but genius things that are skyrocketing in popularity on Amazon now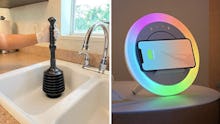 We may receive a portion of sales if you purchase a product through a link in this article.
As you go through life, problems crop up. Some are common: pet fur blankets every surface of your home no matter how much you clean. Others are more obscure: your people need swimming pool games. Fortunately, you are living in an age when nearly any obstacle that arises has a bizarre but genius solution to circumvent it.
And these solutions are within easy reach. In fact, there's a whole big list of them below. These are items that are so helpful, they're rocketing up the Amazon charts and into homes across the country. So take a peek and find something brilliant to solve your strange problems.