Black runners on Ahmaud Arbery and the unique treachery of a simple jog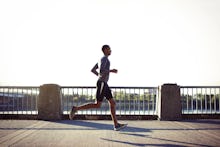 Jordan Siemens/Stone/Getty Images
The exact number of Black people killed by lynchings in the United States is difficult to know. Historians acknowledge that these deaths are vastly undercounted but the Equal Justice Initiative estimates 4,084 racial terror lynchings took in twelve southern states between 1877 to 1950, and another 300 outside of them.
While the United States tries to behave as if lynchings are a thing of the past, the very public, and often brutal, murders of Black people continue today. Some may call them "modern day lynchings" and others will argue that lynchings are already modern; that there is nothing inherently "past" about them. Either way, the February murder of 25-year-old Ahmaud Arbery in Brunswick, Georgia aligns with lynching's violent legacy.
Former Glynn County Police Department officer Gregory McMichael and his son, Travis McMichael, allegedly stalked Arbery during his usual jog through a suburban neighborhood. The two say they believed he was connected to local break-ins (these claims were not substantiated). During a confrontation, Arbery was shot and killed. It took two months and a leaked video for the shooting to gain national attention.
Since the video leaked, people have gone online to share their feelings about the case. Hashtags like #IRunWithMaud, where people shared their 2.23 mile runs on what would've been his 26 birthday, exploded in popularity. But across North America, the horrifying details of Arbery's murder resonate because they aren't unique.
Black people are no strangers to the behavior exhibited by the McMichaels or being in areas where they may "look" suspicious. Many Black people have to navigate seemingly innocuous hobbies or activities with a deep awareness that they may feel threatening to someone for no reason other than their skin color. To speak to this reality, five Black joggers shared how Arbery's death has impacted them, as well as how running has always been different and more dangerous for them.