I tried this genius pour over travel mug that lets you brew anywhere — & I'm never drinking sh*tty coffee again
Really good coffee, wherever you go.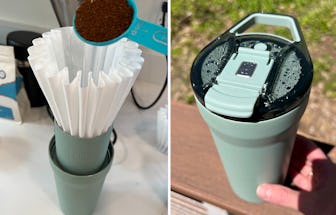 Amazon
We may receive a portion of sales if you purchase a product through a link in this article.
I recently found myself in the Baja, and while the tacos and margs were phenomenal, my coffee situation was decidedly less so. Forced to either brew coffee in the hotel room (can you even call that coffee?) or to take a 10-minute Uber into town to get the real deal, I realized I was becoming that person — the kind so devoted to good coffee, you travel with your own brew setup. So when, back stateside, I got the chance to test out BrüMate's Pour Over Brewing System, it felt like the answer to my (itinerant) coffee-drinking prayers. The sleek pour over travel mug lets you brew directly into a triple-insulated tumbler and it comes with a leakproof lid, so you can enjoy stellar pour over coffee pretty much anywhere.
I tried the pour over system for a week and can now say it's a packing must-have — from camping to Airbnb stays, this thing is going in my duffle. And somewhat unexpectedly, it's also giving my at-home coffee setup a real run for its money. Since the brewing apparatus is the travel cup (game-changer), there's so much less to clean.
Here's everything you need about the BrüMate Pour Over Brewing System.
Fast Facts
Brand: BrüMate
What's Included: 20-ounce tumbler with leakproof lid, a nesting cup for pour overs, 10 filters
Standout Features: Dishwasher safe, cup-holder friendly, triple-insulated, leakproof
Temperature Stats: Keeps coffee hot for 6 hours, cold for 24 hours
Available Colors: 10
Other Supplies You'll Need: Measuring carafe, kettle, tablespoon, ground beans
Initial Thoughts
While advertised as a brewing system, it's not entirely a closed system — meaning, you do have to add some gear to make the thing operational, namely a gooseneck kettle and ground beans to medium coarseness. If you're a coffee geek brewing from home, that's likely not an issue — I had my trusted MiiR gooseneck, Baratza grinder, and Fellow bean canister at the ready — but if you were planning on using this pour over system while traveling, you'd definitely need to think ahead and pack some extras. There are fairly affordable, collapsible electric kettles on Amazon that could fit the bill depending on your destination, and for camping, you could bring a fire-safe kettle.
You'll also need a tablespoon to measure out the grounds, and while the directions technically call for a carafe to measure the 12 ounces of water you'll need for brewing, I mostly just freestyled, so you definitely could get by without this.
Getting Started
From the moment of taking it out of the box, I could tell that it was made of high-quality materials, and the packaging itself included thoughtful details. I liked how everything was labeled with removable stickers — quickly conveying what I needed to know to get started — so there was no need for lengthy instructions. There's also a super easy-to-follow How To Brew video for getting up and brewing in no time. Plus, all of the components are top-shelf dishwasher safe, making it painless to clean before use.
Using The BrüMate Pour Over System
Water Temp
The instructions say to bring 12 ounces of water to 205 degrees Fahrenheit. Fortunately, my gooseneck has a built-in thermometer so I was able to achieve that ideal temp for pour over, but if you're using a kettle without, know that you can always bring the water to a boil (212 degrees) and then let it cool for a few minutes.
Pouring
After pouring a bit of water over the included filter to pre-wet it for optimal taste (per the instructions), I was ready to add the grounds and start the bloom. The nesting cup was easy to place in the tumbler, and the biodegradable filter fit easily within the nesting cup — the only thing that was slightly challenging was aiming the gooseneck for the actual spiral pour because the opening is pretty narrow. Not a big deal; after a few brews, I had mastered a spill-free spiral.
Taking To Go
Completing the pour over took less than a few minutes and the cleanup was supremely easy — you simply toss the filter and remove the nesting cup. Theoretically, you're then supposed to be able screw on your lid and go. I found that I actually needed to let the coffee cool a bit in the cup before putting on the lid because otherwise it was just too hot to drink. The insulation is that good. The brand claims that it can keep drinks hot for 6 hours, and from my testing, that's actually an understatement. I've tried all kinds of insulated mugs and this one is setting a new standard with its triple insulation.
The Coffee Drinking Experience
Assuming you're using good beans ground to the right coarseness (I used my fave from Wonderstate), the BrüMate pour over system is going to deliver a pretty great cup of coffee every time — one that can be enjoyed anywhere thanks to the industrial-grade leakproof lid that turns the thing into a bonafide Thermos. I loved the cup's portability and easy care instructions; I'm too lazy for hand-washing so the fact that this is a dishwasher safe is a massive plus.
I also found myself appreciating the overall size of the tumbler; I could enjoy a large cup of coffee — at perfect temperature — without needing to refill. With my French press at home, there's a lot more transferring of liquid and opportunities for heat loss. French presses are also a pain to clean because of the loose grounds. I don't have a Chemex (or similar pour over setup), but if I did, I think the BrüMate would quickly take its place because there's just less to clean. Why clean an apparatus and a cup if the apparatus can be the cup?
Final Thoughts On The BrüMate Pour Over System
While there are many use cases for the BrüMate at home, you do have to run some cost-benefit analysis on how it would work for your travel needs. For camping or stays in a foreign country, do you want to haul the extra gear for the perfect morning cup? Maybe. With the right planning, there are certainly ways to be using this brew system within seconds of stumbling out of a tent, which sounds pretty amazing.
Of course, if you're staying at an Airbnb, you're probably going to have access to kitchen supplies and a local coffee shop that could grind your beans, so you might not need to pack anything extra — just know that if your style is more off the grid, you'll have to shell out for additional gear to make the BrüMate Pour Over Brewing System a truly self-contained one.