Celebrating Juneteenth with family, food and freedom — and some of America's best Black chefs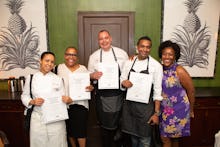 "How 'bout those biscuits?" chef Brother Luck yelled across the dining room of the illustrious James Beard House. He'd come up from the kitchen after cooking dinner Monday night with three other Black chefs from season 15 of Bravo's Top Chef. Between the second and third courses, Brooklyn-based chef Chris Scott served his famous honey butter biscuits — ones that had won over the judges, as well as fellow contestants, in an episode of the popular food competition series.
The Beard House, known for its dinners with esteemed chefs, was hosting its first Juneteenth dining experience. The holiday falls on June 19 and celebrates the day in 1865 that slaves in Texas found out that they were free, two and a half years after the Emancipation Proclamation was signed by then-President Abraham Lincoln. It is a celebration of family, food and freedom. The James Beard event was the brainchild of Scott, Luck and fellow Top Chef contestants Adrienne Cheatham and Tanya Holland.
It was clear that the night's menu paid special attention to the early celebrations of Juneteenth in Texas. Before the event, I asked my mom about special foods that were traditionally served that day, and she pulled out a 30-year-old cookbook compiled by Black Dallas Remembered, an organization that preserves the history of Black Americans in the Dallas Metroplex area. One page in the cookbook is dedicated to celebrating the legacy of Juneteenth, with a list of potential menu items that are "appropriate for Black Heritage Day or a Juneteenth party," according to one of its authors, Ellen Larkin. There are recipes for crackling cornbread, ham hocks with red beans, okra and tomatoes, fried corn and honey butter biscuits. At the James Beard House, diners ate reinterpreted versions of these dishes: braised oxtail with brown butter grits and hoecakes with pulled pork barbecue. And we washed it all down with beer from Harlem Blue, a Black-owned craft beer company, and wines from Black-owned wineries in South Africa and California.
After the meal, the chefs all shared anecdotes about their family's heritage and tradition to diners. Cheatham talked about her father's family and their diverse takes on the same dishes; her dad's relatives are split between Chicago and Jackson, Mississippi. Holland said she learned how to entertain and be hospitable to others from her parents — particularly meaningful, as her dad was in attendance. Luck, whose restaurant Four sits in the Four Corners of the West (where Utah, Colorado, New Mexico and Arizona meet), told a story about how Native American cultures have influenced his work as a chef, especially in his signature cornbread which uses milled blue corn. Scott talked about how his grandmother was the cornerstone for his culinary work — and yes, those famous biscuits.
"In a million years, my grandmother would have never thought that her biscuits would be served at the Beard House on this kind of night," Scott said to the attendees after the meal.
It is Scott's grandma, whom he affectionately calls Nana Browne, who first taught him about Juneteenth. Every year, Scott, his mother and his grandmother would celebrate the holiday by eating his grandmother's fried chicken. This dinner was always special, was made with a little extra care and paid homage to their ancestors, which his family had traced back seven generations to Rappahannock County, Virginia. In an interview with Mic at his restaurant, Butterfunk Kitchen, ahead of the event, Scott said that the "spirit of Butterfunk Kitchen is all about her." And it's evident by the menu, which includes Nana Browne's scrapple with okra chow chow, cornbread and the lemonade buttermilk fried chicken that won him a Top Chef challenge. Scrapple, which is a big part of the Amish cuisine that Scott uses as a vehicle for his soul food, is made of scraps of the pig, often parts that white landowners would give to their slaves. Funk, blues and gospel music filled the small dining area with vibrant sounds. Framed pictures were displayed on the back wall of the restaurant; the decor reminded me of my own late grandmother, who saved thousands of pictures over the years, many of them framed and adorning the walls of her home.
Like Scott, my family spent a lot of years celebrating Juneteenth at my grandmother's house. On the third Saturday in June, my mom, brother and I would set up shop in my grandma's front lawn, and hand out bottled water and cups of red Kool-Aid to participants in the annual parade. Juneteenth might not be considered the biggest food holiday in the United States, but its celebrations are often centered on food. There's the red food and drinks, symbolizing Black resilience amid hundreds of years of slavery. Big Red soda is a Texas tradition. And there's the barbecue, the cornbread, the watermelon, the pies and in recent years, red velvet cake.
My grandmother, who died in 2016 after a battle with cancer, was the queen of desserts and baking. She made German chocolate cakes and applesauce cake, bread puddings and banana puddings, usually baking two cakes every Saturday night to eat on Sundays, my mother said. I distinctly remember savoring every bite of her pecan pies every Thanksgiving. "Celebration foods," as Scott referred to them, like fried chicken, ribs and even biscuits, were often only served on Sundays because they were more labor intensive. Those Sunday meals were often when family members, friends and neighbors came over because she was a master baker and home cook, one who wanted to entertain and take care of anyone who walked through her door.
There was no better place than my grandmother's house to celebrate Juneteenth. She lived in Hamilton Park, a Dallas neighborhood that opened in May 1954 for Black people looking to become first-time homeowners. In the '60s, she worked as a maid for Dallas-based TV personality and chef David Wade. (Later, she also made a couple appearances on his cooking show as his assistant.) She was pregnant with my uncle, and my mom was 3, when my grandparents moved in August 1959. Hamilton Park — with streets named after activist and actor Harry Belafonte, American statesman Ralph Bunche and entertainer Dorothy Dandridge — had its own school, two gas stations, a barbershop, a record shop, a laundromat, three churches and other Black-owned businesses owned by people in the community, my mother tells me.
That community was just one way that my family became forever tied to Dallas' Black history. For her entire life, my mother has attended the Mount Pisgah Missionary Baptist Church, the oldest Black congregation in Dallas County. She's spent the last 20 years involved with the youth ministry. This year, she is shepherding the process for getting the city of Dallas to recognize the church with a historical marker. The church was founded by white preacher Robert Fabius Butler, who had started several congregations across Dallas. He and a few slaves gathered under an elm tree in Upper White Rock Settlement on June 19, 1864, to establish the church there. It was exactly one year before Union General Gordon Granger announced in Galveston, Texas, that all slaves were free. There were approximately 250,000 slaves in the state at the time. Dallas had fewer slaves than other counties, with just over 1,000 slaves who farmed mostly corn in 1860, according to the Texas State Historical Association.
After Granger's announcement, newly freed Black people across Texas began celebrating Juneteenth. It was first celebrated in the state capital in 1867. There were big celebrations in Limestone County — in Mexia, Texas, where my father grew up — and the annual event at Comanche Crossing at one time swelled to 30,000 participants. Every year, Mount Pisgah celebrates its church anniversary that weekend, a picnic that honors the love of freedom, faith, fellowship and food. There were always big long tables where we'd gather and play cards and board games, and eat plates full of barbecue.
Today, Juneteenth celebrations aren't just Texas events. During the third weekend in June, events are held in Atlanta, Los Angeles, Brooklyn, New York, Cincinnati, Ohio, and several other cities across the United States. As a Brooklyn resident, I've always intended on attending local Juneteenth events. An invitation to the "soul dinner" at the James Beard House couldn't have come at a better time. I expected to eat an unforgettable meal, but with a bunch of stiff white food snobs who had no clue about Juneteenth. Instead, I dined with other journalists, with travelers, with a table full of Black people who love food. At one point, a heated debate about the history of callaloo — a popular Caribbean dish that's similar to collard greens and originated in West Africa — nearly tore the table apart. It was all in fun, but in many ways, it reminded me that food — even simple things like a native plant — has a long, storied history in the African diaspora, and that it's interpreted differently depending on where you live.
According to Izabela Wojcik, the director of programming at the James Beard Foundation, to truly celebrate food in this country today, Americans must really be ready to address some "painful truths."
"There's been such an embrace of Southern food and everyone wants it to be full of depth and meaning," she told me. "But when you start to dig a little deeper about how it got to this country and what that means and who is cooking it and why — it immediately tells the story of slavery, and tells the story of history."
The Juneteenth menu was full of items that sounded like the work of fancy, Michelin-starred chefs: uni spoonbread with buttermilk dashi, red velvet macarons with foie gras mousse, andouille and gruyère gougeres. But at their core, these dishes are inspired by the most basic ingredients that those same ancestors picked and prepped and ultimately perfected as meals in the Antebellum South.
"Southern food is the original farm to table," Cheatham, whose uni spoonbread with buttermilk dashi and caviar was a stunning first course, said. "We all take the same cuisine and we all — I hate to say elevate — because it doesn't need to be elevated. It already is elevated, and we all evolve it."
The night ended with Scott and Holland's deconstructed pecan pie with brown sugar ice cream, housemade apple jam and cornmeal cookies instantly took me back to my grandmother's kitchen, eating pecan pie after a big celebration dinner.
I left the evening with new friends, a greater appreciation for soul food and an even deeper respect for my family's deep Texas roots. The night was a celebration of food, of Black history, of Black chefs running the show. And it was the best meal I've ever had — aside, of course, from my own grandmother's cooking.