50 clever, hidden gems on Amazon that work so well, reviewers say they deserve 6 stars
Seriously, when will Amazon add a 6/5 rating?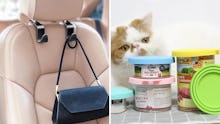 We may receive a portion of sales if you purchase a product through a link in this article.
You can't beat the convenience of shopping on the internet — you have virtually unlimited access to a huge range of items, from clothing to appliances to hidden gems that solve tiny everyday problems. But there are somethings too many things to buy, which leaves you relying on reviews to make sure you're getting the best quality for the convenience.
This list is like a filter for 6-star reviews only. Well, OK, these products can't actually get 6/5 stars on Amazon, but they're so ingenious and useful, reviewers love them just that much.