41 common problems around the house you didn't realize are so cheap & easy to fix
Quick fixes for limited counter space, dark hallways, and more.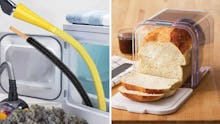 We may receive a portion of sales if you purchase a product through a link in this article.
Whether you rent or own your home, there are probably little issues that you'll still run into. Maybe your hallways are too dark at night, or maybe your kitchen is seriously lacking usable counter space (same). But luckily for both of us, these common problems around the house are easy to fix — especially when you're shopping on Amazon.
For example, those dark hallways would look way brighter with these motion-sensor night lights. And since they'll only turn on when someone is present, they shouldn't run up your electricity bill. As for limited counter space? The solution is as easy as ditching a bulky dish rack in favor of this over-the-sink version. Not only does it take up less space, but there's no need to clean a drip tray since all the water falls right into your sink basin.
Even though these problems are annoying, that doesn't necessarily mean they'll be expensive to fix. Those night lights are available for just $20, whereas that space-saving dish rack is only $25. So what are you waiting for? With so many cheap ways to fix little things around the house, I can't blame you for wanting to start multiple projects at once.