Contractors say these are the cheapest & easiest ways to improve your home
A prettier, more efficient, and better-organized home is coming your way.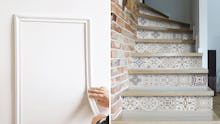 We may receive a portion of sales if you purchase a product through a link in this article.
Home improvement can be a daunting, overwhelming undertaking. Do you leave it to the experts or try your hand at DIY? Do you spend big bucks, or cut costs and risk a low-quality job? I have the perfect compromise: Muster the confidence to do it yourself but with the helpful advice of experts to guide you.
I've compiled a list of tips, tricks, and useful products that come straight from some of the best in the home improvement biz. From lighting inspiration to gardening tips, this list is designed to give you the confidence that you can improve your home affordably.