Contractors say you can save a sh*t load of money around your home with any of these genius tricks
You can save so much cash.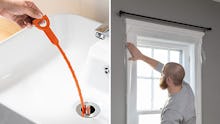 We may receive a portion of sales if you purchase a product through a link in this article.
Typically, calling a contractor or handyperson leads to a hefty bill. Therefore, it's usually a call made only after checking the balance in your checking account. Not this time, though: Mic called contractors and asked them how to save money around the house, and they provided their go-to tricks.
Some of these tricks are dirt-cheap to implement and can save untold dollars. Others pull back the veil on home repairs that are so easy, you can do them yourself — if you know what product to buy and a couple of simple tricks. All that and more follows.