Contractors say you're probably making these expensive mistakes inside your home
Pro tips to save you so much money around your home.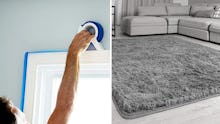 Amazon
We may receive a portion of sales if you purchase a product through a link in this article.
Owning a home can be expensive, and I'm not talking about down payments, mortgage rates, or property taxes. Whether you're renovating your home or simply existing in it, there are tons of common and costly mistakes that you may be making as a homeowner. Fortunately, there are also some very simple fixes that can make a significant impact without breaking the bank.
Whether you're looking to protect your investment from water damage, invest in easy storage solutions, or use designer-approved tricks to spruce up your space, these recommendations by professional contractors will save you money. So if you're looking for an ounce of prevention or a pound of cure, read on for some valuable tips from the pros.