Contractors say you're probably making these mistakes that are costing you money around the house
Don't worry — the solutions are simple.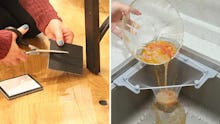 Amazon
We may receive a portion of sales if you purchase a product through a link in this article.
Sure, spending money is almost always easier than saving it — but that doesn't mean saving money has to be a pain. Sometimes, the smallest changes (like a new pair of curtains) can make a world of difference in how much money you wind up spending over the course of a year. With that in mind, I've reached out to a handful of contractors who were more than happy to share the most common mistakes people make in their homes that eventually wind up costing them money, as well as how to fix them.
From scratched floors to clogged gutters, there's a little tip in here for any kind of home.