Contractors swear by these cheap home upgrades on Amazon
Amp up your space with these expert tips.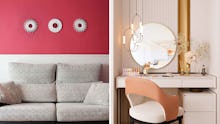 We may receive a portion of sales if you purchase a product through a link in this article.
If you're looking for ways to improve the look and function of your home but don't know where to start, there are a few small upgrades that contractors say can make a big impact on your space for cheap. Below, they've given me the low down on some easy swaps and additions that'll give you the biggest bang for your buck. Plus, most of them are super easy to install so you can amp up your space in time for the weekend.