Contractors use these cheap tricks to make homes look 10x better — & you can easily do them too
Budget-friendly shortcuts to a fabulous living space.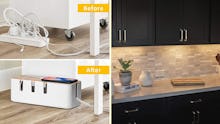 Amazon
We may receive a portion of sales if you purchase a product through a link in this article.
When it comes to making your place look its best, you can count on home contractors to have some tricks up their sleeves. From general contractors to interior designers to housecleaners, these experts gave us their money-saving home hacks that can help you achieve your dream living space.
All their recommendations are easy to execute, whether it's updating your kitchen cabinets by installing new hardware, or investing in storage solutions that will transform the amount of space you have. You don't have to spend a ton of time and money to upgrade your home — here's how.