4 tricky conversations you need to have before moving in with your partner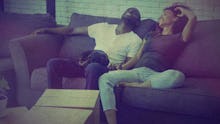 fizkes/Shutterstock
"Did you hear that Tim* and I are moving in together?" my friend Sarah* revealed to our friends over tacos one night. Everyone immediately bombarded her with questions: "Where will you live?" "One-bedroom or two?" "Will you still split the rent evenly?" "What will he do with all his Star Wars action figures?!" Yet Sarah had no answers, saying that she and Tim hadn't had any logistical conversations about moving in together just yet. "But it'll be fine," she assured us.
A few months later, they'd broken up — in part, at least, because most of those important talks didn't actually end up happening. When issues inevitably came up — like how they'd divide the rent and who'd cook dinner each night — Sarah and Tim found that they disagreed on pretty much everything. If they'd talked about things prior to moving in together, though, they might've been able to resolve those problems and find common ground; and while there still would've been struggles, of course, nothing would have come as a surprise.
"Moving in together is obviously a major step," Josh Klapow, Ph.D. clinical psychologist and host of The Kurre and Klapow Show, tells Mic. "You may love the person dearly, but you still have to prepare yourself for some basic challenges." When you live with your partner — like approximately 64.5% of U.S. adults aged 18 to 44 have done at some point, according to The Institute for Family Studies (IFS) — you'll discover "their habits, quirks, fears, oddities, and everything that had been covered up while you could each retreat back to your own private location," explains Dr. Klapow.
That learning process is unavoidable, but it doesn't have to be overwhelming if you get a sense of how living with your partner will be prior to taking the plunge. Right now, you might discuss where to go on dates and what movie to watch on Netflix, but cohabiting requires deeper conversations about dividing chores, spending money, and much more. The more prepared you are before signing a lease, the better. As Dr. Kaplow advises, "Open the lines of communication and have the hard conversations before you move in together."
Here, he and a relationship expert reveal the top conversations you and your partner should have now if you're planning on living together soon.