75 cool gifts that seem expensive but are actually cheap AF on Amazon
These gifts hit the sweet spot of trendy, clever — and affordable.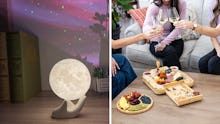 We may receive a portion of sales if you purchase a product through a link in this article.
Buying gifts can be tricky. You want to make sure that the person you're shopping for will appreciate whatever you're giving them, but you also want to avoid ruining your budget for the month. Luckily, there are tons of cool gifts you can find on Amazon that seem expensive but are actually cheap AF.
And if you don't have enough time on your hands to search through pages and pages of products, don't worry — I've already compiled some of the best options for you to check out below. From gorgeous makeup palettes to Bluetooth speakers, there's a little something for people of all tastes in this list. But if you want to see more, you just have to keep scrolling.