This is the unique deodorant that won over 'Shark Tank' investors — & shoppers love the newest scent
Curie skips the aluminum, parabens, and phthalates for a simpler ingredient list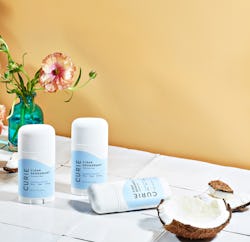 Curie
We may receive a portion of sales if you purchase a product through a link in this article.
Curie was already gaining attention back in 2022 when it's founder, Sarah Moret, appeared on Shark Tank and negotiated her way to a deal. And she managed to stay dry and odor-free in the process with the very product she was pitching: botanical-forward, aluminum-free deodorants that actually work. Now, the brand has just launched its newest scent with an improved formula — and reviewers are already raving about it.
What is Curie?
Fast facts:
Female-founded deodorant brand
Offers deodorant sticks and full-body sprays in scented and unscented formulations
Ingredients include natural botanicals, probiotics, and essential oils
Formulas are free of aluminum, parabens, and phthalates
Donates one stick of deodorant for every five sold
Curie is the Shark Tank-approved, female-founded deodorant brand that's named after the trailblazing physicist and chemist, Marie Curie. The small business began in 2018, when founder Sarah Moret set out to create a line of deodorants that uses simpler ingredients without sacrificing on scent or odor control.
For its latest scent, Curie teamed up with fragrance icon Annie Gottlieb, who has worked on fragrances for the likes of Dior, Calvin Klein, and Marc Jacobs. Coconut Nectar was initially inspired by the freshness of coconut water. Its sweeter, warmer notes are made sharper with a touch of mint, helping to give the deodorant a subtle dash of freshness.
Who is Curie right for?
Traditional anti-perspirants are usually formulated with aluminum, parabens, and phthalates. Some people prefer to avoid these ingredients for various reasons (some can cause irritation, while others are known endocrine disruptors). Curie skips these ingredients for simpler formulations that include botanicals, probiotics, and essential oils — making it a good option whether you're new to natural deodorants or just looking to shake things up with another brand or scent.
That said, Curie stick deodorants do contain sodium bicarbonate (aka baking soda), an ingredient that can cause redness or irritation for some people. The brand claims to use a smaller amount of baking soda than other natural deodorants to minimize the chance of such a reaction. Still, if you know your pits don't like this ingredient, you may want to stick to Curie's full-body deodorant spray, which is completely free of baking soda — and has the added benefit of being easy to share.
What are reviewers saying about Curie?
"I have been using the orange neroli and grapefruit for about a year now. Hands down best deodorant ever. Lasts all day and never have to reapply. Once at 6AM is good for all day protection!" — Matt
"When I first put it on I could not stop smelling my own armpits all day, it is that good." — Stephanie B.
"I have tried other natural deodorants and I mean it when I say this is the best one I have ever tried. [...] It lasts all day! The texture is unlike other natural deodorants. It's not greasy and it absorbs sweat better than other brands. My tip- put on 4-5 swipes heavily and it will last all day. I purchased in orange neroli and coconut nectar, both amazing!" — Cristina
"I love this scent & it lasts for hours! I've never used an aluminum free deodorant where I didn't have to reapply during a day at work or especially after working out… UNTIL NOW! I hope this one is here to stay because it's such a clean and fresh scent. I love it!" — Julie L.
"I have tried quite a few natural / clean deodorants, all of them left my clothes stained and / or didn't leave me smelling fresh at the end of the day. Curie doesn't stain my clothes and I smell very fresh at the end of the day without reapplication. Very happy with the product!" — T.G.