Damar Hamlin's charity has received nearly $4 million in donations since his collapse less than 24 hours ago
Watch the Buffalo Bills player's 2020 vlog documenting his inaugural toy drive and try not to cry.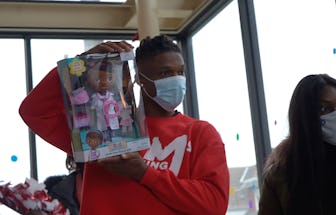 YouTube/Damar Hamlin
Buffalo Bills safety Damar Hamlin is currently in critical condition after suffering a cardiac arrest on the field Monday night. Hamlin collapsed during a game against the Cincinnati Bengals, and the traumatic event left players on both teams, as well as fans, in disbelief — but the shock hasn't slowed the so-called "Bills Mafia" fandom and others from showing their support.
As of Tuesday morning, fans have raised more than $3.9 million for the annual community toy drive organized by Hamlin's charity, The Chasing M's Foundation — and the donation total continues to increase by the minute. Before Monday night, the foundation had raised a little over $2,900 via its official GoFundMe page, which exceeded the initial $2,500 fundraising goal. Hamlin started the charity in 2020 as a local initiative; donations went toward purchasing toys for children whose families had been affected by the pandemic in Hamlin's hometown of McKees Rocks, Pennsylvania, per NPR. He has since expanded the fundraiser's reach to Buffalo.
Hamlin documented the inaugural toy drive in a vlog posted to his own YouTube channel in 2020; in the video, he talked about the value of an event where kids can not only get toys but also meet and see role models like himself and his teammates. "I feel like that's big in a kid's life, and that's something we haven't always had in Pittsburgh," he said to the camera.
Jordan Rooney, a family friend and rep for Hamlin, echoed that value on Tuesday. "He's in the NFL because he wants to be a role model," Rooney told CNN. "Part of what drives Damar is to be an example for the other young people in his community." He added, "I mean, toy drives, back-to-school drives, just giving people time out of his day. Damar is the ideal professional athlete."
Hamlin made it clear in that 2020 YouTube vlog that this foundation is a priority. "I'm thankful that I can even be in this position to give back," he said at the time. "I can't really remember too many people that got in front of me to show me, like, 'This is the way to go, this is the way to do it.' So I really feel like it's important for me to do it, because I know the difference it can play in a kid's life."