Designers say these cheap home upgrades always impress the hell out of people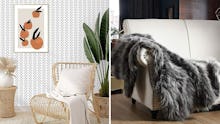 We may receive a portion of sales if you purchase a product through a link in this article.
If the phrase "home upgrades" conjures up images of endless dollar signs and months of messy projects, you're not alone. The truth is, however, you don't have to spend tons of money — or time — to make your home look better. In fact, I spoke to a standout group of interior designers for this article and each said there are plenty of impressive home upgrades that you can make for cheap.
In that vein, the following is a collection of items that will improve your home with little to no effort and that won't break the bank. From statement-making pendant lighting to subtle upgrades like houseplants and new pulls for the cabinets, designers say these cheap home upgrades are sure to impress the hell out of anyone. The toughest part might be choosing where to stop.