Designers say you can save a sh*t load of money around your home with any of these genius tricks
Save money (and time!) with these smart tips.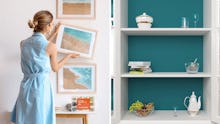 Amazon
We may receive a portion of sales if you purchase a product through a link in this article.
Having a nice home doesn't have to cost an arm and a leg — you just have to know how to spend your money wisely. Small improvements, like a new coat of paint or fresh cabinet pulls, can make a world of difference for just a few dollars. But if you aren't sure where to start, don't worry: I've reached out to a handful of designers who were more than happy to share their favorite tips when it comes to updating homes on a budget.
And since every space is unique, I've also made sure that their tips can be applied across a wide variety of home styles — in other words, not likely to clash with your personal tastes. Designers know what works best when it comes to decorating your home, so why not take their advice?
If you want to save a sh*t load of money while updating your home, keep scrolling for more.