Designers say you should never do these things around your home — & here's what to do instead
Looking at yellowed light switches or a too-small area rug? It's probably time for an update.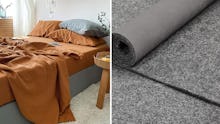 Amazon
We may receive a portion of sales if you purchase a product through a link in this article.
When trends move so quickly — and prices get so high — decorating your home can be a feat of blending timeless pieces (aka furniture that won't look dated in two years) with accents that feel fresh and fun. And especially if you're renting, sometimes you have only so much control over how much carpet there is or what kind of appliances you have.
Luckily, there are a lot of updates you can make that aren't cost-prohibitive and will make a big difference without major design overhauls. Interior designers from London to Los Angeles reveal below some of their best tips to correct common design mistakes. Read on to learn more.