Designers say you're making your home look cheap if you're doing any of these surprising things
Here's how to prevent those mistakes.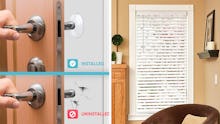 We may receive a portion of sales if you purchase a product through a link in this article.
Your home is likely where you spend the majority of your time, which is why you don't want it to look cheap. The only trick is figuring out why it looks that way in the first place — even after you've decorated it from head to toe.
Luckily for both of us, I've reached out to several designers who were more than happy to share what they think makes a home look cheap, and how to prevent it. From avoiding matching furniture sets to swapping out builder-grade fixtures with sleek upgrades, each tip you'll find below can easily be applied across a wide variety of homes. And besides — who doesn't love a good pair of blackout curtains?
It's always a good idea to take advice from professionals, so why not see what these designers have to say? If something about your home feels cheap, make sure to keep scrolling for more.